MyFord Touch® (If Equipped)
INTRODUCTION
WARNING: Driving while distracted can result in loss of vehicle control, crash and injury. We strongly recommend that you use extreme caution when using any device that may take your focus off the road. Your primary responsibility is the safe operation of your vehicle. We recommend against the use of any hand-held device while driving and encourage the use of voice-operated systems when possible.
Make sure you are aware of all applicable local laws that may affect the use of electronic devices while driving.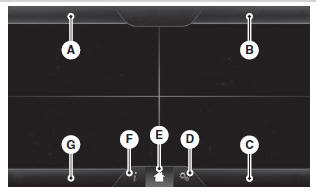 A. Phone
B. Navigation (or Information if your vehicle is not equipped with Navigation)
C. Climate
D. Settings
E. Home
F. Information
G. Entertainment
This system uses a four-corner strategy to provide quick access several vehicle features and settings. The touchscreen provides easy interaction with your cellular phone, multimedia, climate control and navigation system. The corners display any active modes within those menus, such as phone status or the climate temperature.
Note: Some features are not available while your vehicle is moving.
Note: Your system is equipped with a feature that allows you to access and control audio features for 30 minutes after you switch the ignition off (and no doors open).
PHONE
Press to select any of the following:
• Making and Receiving Calls
• Quick Dial
• Phonebook
• Call History
• Text Messaging
• Settings
NAVIGATION
Press to select any of the following:
• My Home
• Favorites
• Previous Destinations
• Point of Interest
• Emergency
• Street Address
• Intersection
• City Center
• Map
• Edit Route Cancel Route
CLIMATE
Press to select any of the following:
• Driver Settings
• Recirculated Air
• Auto
• Dual
• Passenger Settings
• A/C
• Defrost

SETTINGS
• Clock
• Display
• Sound
• Vehicle
• Settings
• Help

HOME
Press to access your home screen. Depending on your vehicle's option package and software, your screens may vary in appearance from the descriptions in this section. Your features may also be limited depending on your market. Check with your authorized dealer for availability.

INFORMATION
Press to select any of the following:
• SYNC® Services
• SIRIUS® Travel Link™
• Alerts
• Calendar
• SYNC Apps
If the icon is yellow, see Alerts in the Information section of this chapter.
ENTERTAINMENT
Press to select any of the following:

• AM • FM
• SIRIUS
• CD
• USB
• BT Stereo
• SD Card
• A/V In
Using the Touch-sensitive Controls on Your System
To turn a feature on and off, just touch the graphic with your finger.
To get the best performance from the touch-sensitive controls:
• Do not press hard on the controls. They are sensitive to light touch.
• Use your bare finger to touch the center of a touch-control graphic.
Touching off-center of the graphic may affect operation of a nearby control.
• Make sure your hands are clean and dry.
• Keep metal and other conductive material away from the surface of the touchscreen as this may cause electronic interference (for example, inadvertently turning on a feature other than the one you meant to turn on).
Depending on your vehicle and option package, you may also have these controls on your bezel:
• Power: Switch the media or climate features off and on.
• VOL: Control the volume of playing media.
• Fan: Control the speed of the climate system fan.
• Seek and Tune buttons: Use as you normally would in media modes.
• Eject: Eject a CD from the entertainment system.
• SOURCE: Touch the word repeatedly to see all available media modes. The screen does not change, but you see the media change in the lower left status bar.
• SOUND: Touch the word to access the Sound menu where you can adjust settings such as: Bass, Treble, Midrange, Balance and Fade, THX Deep Note Demo, DSP (Digital Signal Processing), Occupancy Mode and Speed Compensated Volume. (Your vehicle may not have all of these sound options.)
• Hazard flasher: Switch the hazard flashers off and on.
Cleaning the Touchscreen Display
Use a clean, soft cloth such as one used for cleaning glasses. If dirt or fingerprints are still visible, apply a small amount of alcohol to the cloth.
Do not pour or spray alcohol onto the display. Do not use detergent or any type of solvent to clean the display.
Support
The SYNC support team is available to help you with any questions you cannot answer on your own.
Monday-Saturday, 8:30am-8:00pm EST
In the United States, call: 1–888–270–1055
In Canada, call: 1–800–565–3673
Times are subject to change due to holidays.
Safety Information
WARNING: Driving while distracted can result in loss of vehicle control, accident and injury. Ford strongly recommends that drivers use extreme caution when using any device that may take their focus off the road. Your primary responsibility is the safe operation of the vehicle. We recommend against the use of any handheld device while driving, encourage the use of voice-operated systems when possible and that you become aware of applicable state and local laws that may affect use of electronic devices while driving.
When using SYNC:
• Do not operate playing devices if the power cords or cables are broken, split or damaged. Place cords and cables out of the way, so they do not interfere with the operation of pedals, seats, compartments or safe driving abilities.
• Do not leave playing devices in your vehicle during extreme conditions as it could cause them damage. See your device's manual for further information.
• Do not attempt to service or repair the system. See your authorized dealer.
For your safety, some SYNC functions are speed-dependent. Their use is limited to when your vehicle is traveling at speeds under 3 mph (5 km/h).
Make sure that you review your device's manual before using it with SYNC.
Speed-restricted Features
Some features of this system may be too difficult to use while your vehicle is moving so they are restricted from use unless your vehicle is stationary.
• Screens that are too crowded with information, such as Point of Interest reviews and ratings, SIRIUS® Travel Link™ sports scores, movie times and ski conditions.
• Any action that requires you to use a keyboard is restricted, such as entering a navigation destination or editing information.
• All lists are limited so the user can view fewer entries (such as phone contacts or recent phone call entries).
See the following chart for more specific examples: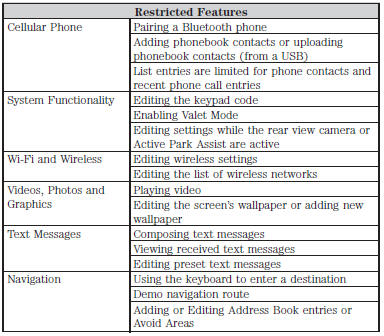 Privacy Information
When a cellular phone is connected to SYNC, the system creates a profile within your vehicle that is linked to that cellular phone. This profile is created in order to offer you more cellular features and to operate more efficiently. Among other things, this profile may contain data about your cellular phone book, text messages (read and unread), and call history, including history of calls when your cell phone was not connected to the system. In addition, if you connect a media device, the system creates and retains an index of supported media content.
The system also records a short development log of approximately 10 minutes of all recent system activity. The log profile and other system data may be used to improve the system and help diagnose any problems that may occur.
The cellular profile, media device index, and development log remain in the vehicle unless you delete them and are generally accessible only in the vehicle when the cellular phone or media player is connected. If you no longer plan to use the system or the vehicle, we recommend you perform a Master Reset to erase all stored information.
System data cannot be accessed without special equipment and access to the vehicle's SYNC module. Ford Motor Company and Ford of Canada do not access the system data for any purpose other than as described absent consent, a court order, or where required by law enforcement, other government authorities, or other third parties acting with lawful authority. Other parties may seek to access the information independently of Ford Motor Company and Ford of Canada. For further privacy information, see the sections on 911 Assist®, Vehicle Health Report, and Traffic, Directions and Information.
See also:
Interior
For fabric, carpets, cloth seats, safety belts and seats equipped with side airbags: • Remove dust and loose dirt with a vacuum cleaner. • Remove light stains and soil with Motorcraft Profession ...
Bulb specification chart
Replacement bulbs are specified in the chart below. Headlamp bulbs must be marked with an authorized "D.O.T." for North America and an "E" for Europe to ensure lamp performance, light brig ...
Exceptions
There are several exceptions to the Normal Schedule. They are listed below: Normal vehicle axle maintenance: Rear axles and power take-off (PTO) units with synthetic fluid and light-duty trucks equ ...