SYNC®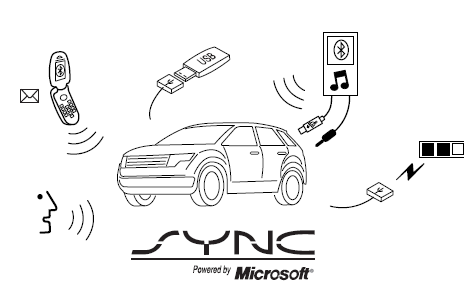 SYNC is an in-vehicle communications system that works with your Bluetooth-enabled cellular phone and portable media player. This allows you to:
• Make and receive calls.
• Access and play music from your portable music player.
• Use 911 Assist®, Vehicle Health Report and SYNC Services (Traffic, Directions & Information) (if equipped).
• Use applications, such as Pandora and Stitcher, via SYNC AppLink™ (if applicable).
• Access phonebook contacts and music via voice commands.
• Stream music from your connected phone.
• Text message.
• Use the advanced voice recognition system.
• USB device charging (if your device supports this).
GENERAL INFORMATION
Ensure that you review your device's user guide before using it with SYNC.
Support
The SYNC support team is available to help you with any questions you cannot answer on your own.
Monday-Saturday, 8:30am-8:00pm EST
In the United States, call: 1–888–270–1055
In Canada, call: 1–800–565–3673
Times are subject to change due to holidays.
SYNC Owner Account
Why do I need a SYNC owner account?
• Required to activate Vehicle Health Report and to view the reports online.
• Required to activate the subscription-based SYNC Services and to personalize your Saved Points and Favorites.
• Essential for keeping up with the latest software downloads available for SYNC.
• Access to customer support for any questions you may have.
Driving Restrictions
For your safety, certain features are speed-dependent and restricted when your vehicle is traveling over 3 mph (5 km/h).
Safety Information
WARNING: Driving while distracted can result in loss of vehicle control, accident and injury. Ford strongly recommends that drivers use extreme caution when using any device that may take their focus off the road. Your primary responsibility is the safe operation of the vehicle. We recommend against the use of any handheld device while driving, encourage the use of voice-operated systems when possible and that you become aware of applicable state and local laws that may affect use of electronic devices while driving.
When using SYNC:
• Do not operate playing devices if the power cords or cables are broken, split or damaged. Place cords and cables out of the way, so they do not interfere with the operation of pedals, seats, compartments or safe driving abilities.
• Do not leave playing devices in your vehicle during extreme conditions as it could cause them damage. See your device's user guide for further information.
• Do not attempt to service or repair the system. See your authorized dealer.
For your safety, some SYNC functions are speed-dependent. Their use is limited to when your vehicle is traveling at speeds under 3 mph (5 km/h).
Make sure that you review your device's user guide before using it with SYNC.
Privacy Information
When a cellular phone is connected to SYNC, the system creates a profile within your vehicle that is linked to that cellular phone. This profile is created in order to offer you more cellular features and to operate more efficiently. Among other things, this profile may contain data about your cellular phone book, text messages (read and unread), and call history, including history of calls when your cell phone was not connected to the system. In addition, if you connect a media device, the system creates and retains an index of supported media content. The system also records a short development log of approximately 10 minutes of all recent system activity. The log profile and other system data may be used to improve the system and help diagnose any problems that may occur.
The cellular profile, media device index, and development log remain in the vehicle unless you delete them and are generally accessible only in the vehicle when the cellular phone or media player is connected. If you no longer plan to use the system or the vehicle, we recommend you perform a Master Reset to erase all stored information.
System data cannot be accessed without special equipment and access to the vehicle's SYNC module. Ford Motor Company and Ford of Canada do not access the system data for any purpose other than as described absent consent, a court order, or where required by law enforcement, other government authorities, or other third parties acting with lawful authority. Other parties may seek to access the information independently of Ford Motor Company and Ford of Canada. For further privacy information, see the sections on 911 Assist®, Vehicle Health Report, and Traffic, Directions and Information.
USING VOICE RECOGNITION
This system helps you control many features using voice commands. This allows you to keep your hands on the wheel and focus on what is in front of you.
Initiating a Voice Session

Push the voice icon; a tone sounds and Listening appears in the display. Say any of the following: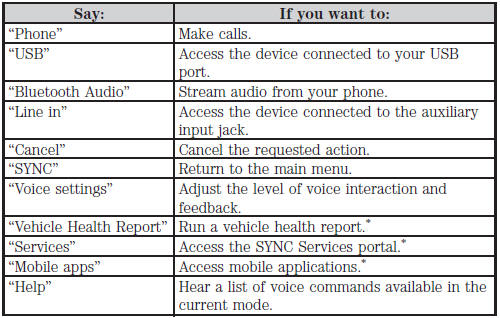 *If equipped, U.S. only.
System Interaction and Feedback
The system provides feedback through audible tones, prompts, questions and spoken confirmations depending on the situation and the chosen level of interaction (voice settings). You can customize the voice recognition system to provide more or less instruction and feedback.
The default setting is to a higher level of interaction in order to help you learn to use the system. You can change these settings at any time.
Adjusting the Interaction Level

Push the voice icon; when prompted, say "Voice settings", then any of the following:

The system defaults to the standard interaction mode.
Confirmation prompts are short questions the system asks when it is not sure of your request or when there are multiple possible responses to your request. (For example, the system may ask "Phone, is that correct?") If turned off, the system simply makes a best guess as to what you requested and you may still occasionally be asked to confirm settings.

The system creates candidate lists when it has the same confidence level of several options based on your voice command. When turned on, you may be prompted with as many as four possibilities for clarification.
For example, "Say 1 after the tone to call John Doe at home. Say 2 after the tone to call Johnny Doe on mobile. Say 3 after the tone to call Jane Doe at home." Or, "Say 1 after the tone to play John Doe, Say 2 after the tone to play Johnny Doe."

Helpful Hints
• Make sure the interior of the vehicle is as quiet as possible. Wind noise from open windows and road vibrations may prevent the system from correctly recognizing spoken commands.
• After pressing the voice icon, wait until after the tone sounds and Listening appears before saying a command. Any command spoken prior to this does not register with the system.
• Speak naturally, without long pauses between words.
• At any time you can interrupt the system while it is speaking by pressing the voice icon.
USING SYNC WITH YOUR PHONE
Hands-free calling is one of the main features of SYNC. While the system supports a variety of features, many are dependent on your cellular phone's functionality. At a minimum, most cellular phones with Bluetooth wireless technology support the following functions:
• Answering an incoming call.
• Ending a call.
• Using privacy mode.
• Dialing a number.
• Redialing.
• Call waiting notification.
• Caller ID.
Other features, such as text messaging using Bluetooth and automatic phonebook download, are phone-dependent features. To check your phone's compatibility, see your phone's user manual and visit www.SYNCMyRide.com, www.SYNCMyRide.ca or www.syncmaroute.ca.
See also:
Safety belt-minder
This feature supplements the safety belt warning function by providing additional reminders by intermittently sounding a chime and illuminating the safety belt warning light when the driver's or ...
Keys
Your vehicle is equipped with two Integrated Keyhead Transmitters (IKTs). The key blade functions as a programmed key which starts the vehicle and unlocks/locks all the doors. The transmitter port ...
Keyless starting
Note: The keyless starting system may not function if the key is close to metal objects or electronic devices such as mobile phones. Note: A valid key must be located inside your vehicle to switch ...