Cargo Area Features
Cargo shade (if equipped)
If your vehicle has a cargo shade, you can use it to cover items in the cargo area of your vehicle.
To install the shade:
• Insert the ends of the cargo shade into the mounting features located behind the rear seat on the rear trim panels.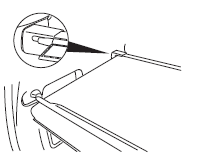 To operate the shade:
1. Grasp the rear edge of the cargo shade and pull rearward.
2. Secure both ends of the support rod into the retention slots located on the rear quarter trim panels.

WARNING: Ensure that the posts are properly latched in mounting features. The cover may cause injury in a sudden stop or accident if it is not securely installed.

WARNING: Do not place any objects on the cargo area shade.
They may obstruct your vision or strike occupants of vehicle in the case of a sudden stop or collision.
Cargo management system (if equipped)
The cargo management system consists of two storage compartments located in the floor of the rear cargo area.
The larger, rearward, compartment is for customer storage. To open, lift the lid with the pull latch. The lid can be removed to allow for flexible storage. To close, lower the lid and press down at the latch area until you hear the latch engage. A pad lock or combination lock can be applied to use the lockable storage feature on the large customer storage bin.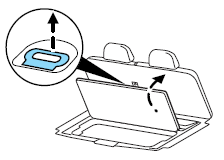 The smaller compartment contains the jack kit. There is also extra storage space for customer use. The lid on the small compartment is accessible and secured by two snap features.

WARNING: This storage compartment is not designed to restrain objects during a collision with the lid removed.
Passenger side cargo compartment
Your vehicle is equipped with a passenger side cargo compartment located in the right rear trim panel which is used to store small items and may have the Easy Fuel™ white plastic funnel attached on the inside of the access door. Make sure the access door is secured so it does not rattle when you drive.
See also:
Information messages
See Information Messages later in this chapter for more information. Information Display Controls (Type 2) • Press the up and down arrow buttons to scroll through and highlight the options wit ...
Stability Control
PRINCIPLES OF OPERATION WARNING: Vehicle modifications involving braking system, aftermarket roof racks, suspension, steering system, tire construction and wheel or tire size may change the handl ...
Economical driving
Fuel economy is affected by several things, such as how you drive, the conditions you drive under and how you maintain your vehicle. There are some things to keep in mind that may improve your fuel ...