Driving through water
WARNING: Drive through water in an emergency only, and not as part of normal driving.
WARNING: Engine damage can occur if water enters the air filter.
Note: Driving through deep water may allow water into the transmission or air intake and can cause internal vehicle damage or cause it to stall.
Note: Once through the water, always dry the brakes by moving your vehicle slowly while applying light pressure on the brake pedal.
If driving through deep or standing water is unavoidable, proceed very slowly. Never drive through water that is higher than the bottom of the wheel rims (for cars) or the bottom of the hubs (for trucks).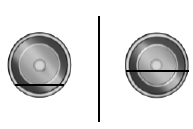 When driving through water, traction or brake capability may be limited. Also, water may enter your engine's air intake and severely damage your engine or your vehicle may stall.
Wet brakes do not stop the vehicle as quickly as dry brakes.
See also:
Multi-function lever
Windshield wiper: Rotate the end of the control away from you to increase the speed of the wipers; rotate towards you to decrease the speed of the wipers. Windshield washer: Press the end of the ...
Waxing
• Wash the vehicle first. • Use a quality wax that does not contain abrasives. • Do not allow paint sealant to come in contact with any non-body (low-gloss black) colored trim, such as grain ...
Checking the wiper blades
Run the tip of your fingers over the edge of the blade to check for roughness. Clean the wiper blades with washer fluid or water applied with a soft sponge or cloth. CHANGING THE WIPER BLADES ...