Rain-sensing wipers
Note: Wet road conditions may result in inconsistent or unexpected wiping or smearing. Lower the sensitivity, switch to normal or high-speed wiping or turn the wipers off to reduce smearing.
Note: Turn off the wipers before entering a car wash.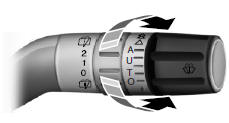 Use the rotary control to adjust the sensitivity to one of the interval moisture settings. The wipers will not cycle until moisture is detected on the windshield. The wiper speed will vary based on the amount of moisture detected on the windshield and the sensitivity setting. The wipers will continue to wipe as long as moisture is detected.
This feature can be turned on or off using the information display.
Keep the outside of the windshield clean, especially the area around the interior mirror where the sensor is located, or sensor performance may be affected.
See also:
Driving through water
If driving through deep or standing water is unavoidable, proceed very slowly. Never drive through water that is higher than the bottom of the wheel rims (for cars) or the bottom of the hubs (for ...
Trailer towing
Trailer towing with your vehicle may require the use of a trailer tow option package. Trailer towing puts additional loads on your vehicle's engine, transmission, axle, brakes, tires and suspen ...
Cleaning the interior
WARNING: Do not use cleaning solvents, bleach or dye on the vehicle's safety belts, as these actions may weaken the belt webbing. WARNING: On vehicles equipped with seat-mounted airbags, do not u ...