General audio information
Radio frequencies:
AM and FM frequencies are established by the Federal Communications Commission (FCC) and the Canadian Radio and Telecommunications Commission (CRTC). Those frequencies are:
AM: 530, 540–1700, 1710 kHz
FM: 87.7, 87.9–107.7, 107.9 MHz
Radio reception factors:
There are three factors that can affect radio reception:
• Distance/strength: The further you travel from an FM station, the weaker the signal and the weaker the reception.
• Terrain: Hills, mountains, tall buildings, power lines, electric fences, traffic lights and thunderstorms can interfere with your reception.
• Station overload: When you pass a broadcast tower, a stronger signal may overtake a weaker one and play while the weak station frequency is displayed.
CD/CD player care
Do:
• Handle discs by their edges only. (Never touch the playing surface).
• Inspect discs before playing.
• Clean only with an approved CD cleaner.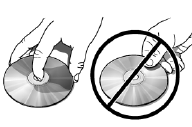 • Wipe discs from the center out.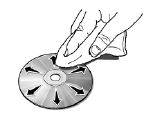 Don't:
• Expose discs to direct sunlight or heat sources for extended periods of time.
• Clean using a circular motion.
CD units are designed to play commercially pressed 4.75 in (12 cm) audio compact discs only. Due to technical incompatibility, certain recordable and re-recordable compact discs may not function correctly when used in Ford CD players.
Do not use any irregular shaped CDs or discs with a scratch protection film attached.
CDs with homemade paper (adhesive) labels should not be inserted into the CD player as the label may peel and cause the CD to become jammed. It is recommended that homemade CDs be identified with permanent felt tip marker rather than adhesive labels. Ballpoint pens may damage CDs. Please contact your authorized dealer for further information.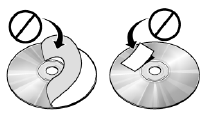 Audio system warranty and service
Refer to the Warranty Guide for audio system warranty information. If service is necessary, see your dealer or qualified technician.
MP3 track and folder structure
Your MP3 system recognizes MP3 individual tracks and folder structure as follows:
• There are two different modes for MP3 disc playback: MP3 track mode (system default) and MP3 folder mode. For more information on track and folder mode, refer to Sample MP3 structure in the following section.
• MP3 track mode ignores any folder structure on the MP3 disc. The player numbers each MP3 track on the disc (noted by the .mp3 file extension) from T001 to a maximum of T255.
Note: The maximum number of playable MP3 files may be less depending on the structure of the CD and exact model of radio present.
• MP3 folder mode represents a folder structure consisting of one level of folders. The CD player numbers all MP3 tracks on the disc (noted by the .mp3 file extension) and all folders containing MP3 files, from F001 (folder) T001 (track) to F253 T255.
• Creating discs with only one level of folders will help with navigation through the disc files.
Sample MP3 structure
If you are burning your own MP3 discs, it is important to understand how the system will read the structures you create. While various files may be present, (files with extensions other than mp3), only files with the .mp3 extension will be played. Other files will be ignored by the system. This enables you to use the same MP3 disc for a variety of tasks on your work computer, home computer and your in-vehicle system.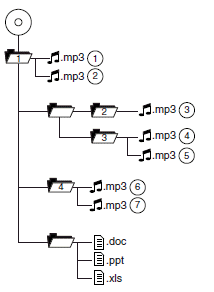 In track mode, the system will display and play the structure as if it were only one level deep (all .mp3 files will be played, regardless of being in a specific folder). In folder mode, the system will only play the .mp3 files in the current folder.
Satellite radio information (if equipped)
Satellite radio channels: SIRIUS broadcasts a variety of music, news, sports, weather, traffic and entertainment satellite radio channels. For more information and a complete list of SIRIUS satellite radio channels, visit www.sirius.com in the United States, www.siriuscanada.ca in Canada, or call SIRIUS at 1–888–539–7474.
Satellite radio reception factors: To receive the satellite signal, your vehicle has been equipped with a satellite radio antenna located on the roof of your vehicle. The vehicle roof provides the best location for an unobstructed, open view of the sky, a requirement of a satellite radio system. Like AM/FM, there are several factors that can affect satellite radio reception performance:
• Antenna obstructions: For optimal reception performance, keep the antenna clear of snow and ice build-up and keep luggage and other material as far away from the antenna as possible.
• Terrain: Hills, mountains, tall buildings, bridges, tunnels, freeway overpasses, parking garages, dense tree foliage and thunderstorms can interfere with your reception.
• Station overload: When you pass a ground based broadcast repeating tower, a stronger signal may overtake a weaker one and result in an audio mute.
Unlike AM/FM audible static, you will hear an audio mute when there is a satellite radio signal interference. Your radio display may display NO SIGNAL to indicate the interference.
SIRIUS satellite radio service: SIRIUS satellite radio is a subscription based satellite radio service that broadcasts music, sports, news and entertainment programming. A service fee is required in order to receive SIRIUS service. Vehicles that are equipped with a factory installed SIRIUS satellite radio system include hardware and a limited subscription term, which begins on the date of sale or lease of the vehicle.
For information on extended subscription terms, the online media player and other SIRIUS features, please contact SIRIUS at 1–888–539–7474.
Note: SIRIUS reserves the unrestricted right to change, rearrange, add or delete programming including canceling, moving or adding particular channels, and its prices, at any time, with or without notice to you. Ford Motor Company shall not be responsible for any such programming changes.
Satellite radio electronic serial number (ESN): This 12–digit Satellite Serial Number is needed to activate, modify or track your satellite radio account. You will need this number when communicating with SIRIUS . While in satellite radio mode, you can view this number on the radio display by pressing the AUX and preset 1 controls simultaneously.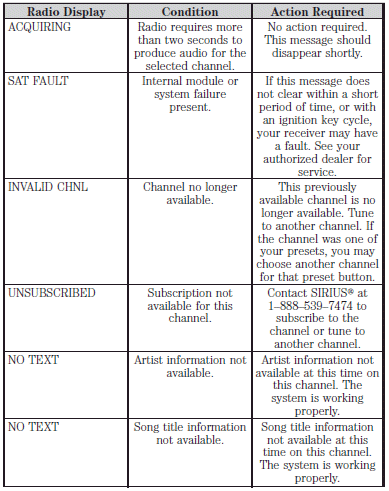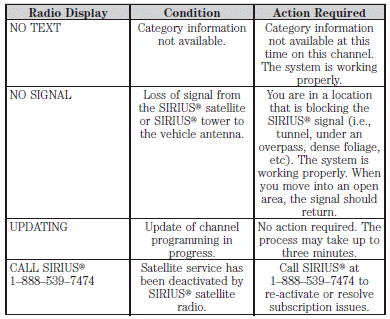 See also:
Air filter
Refer to scheduled maintenance information for the appropriate intervals for changing the air filter element. When changing the air filter element, use only the air filter element listed. Refer t ...
Overhead console
The appearance of the overhead console will vary according to your option package. Press near the rear edge of the door to open it. ...
911 Assist™
WARNING: Unless the 911 Assist setting is set on prior to a crash, the system will not dial for help which could delay response time, potentially increasing the risk of serious injury or death aft ...