Technical specifications
Wheel Lug Nut Torque Specifications
WARNING: When a wheel is installed, always remove any corrosion, dirt or foreign materials present on the mounting surfaces of the wheel or the surface of the wheel hub, brake drum or brake disc that contacts the wheel. Make sure that any fasteners that attach the rotor to the hub are secured so they do not interfere with the mounting surfaces of the wheel. Installing wheels without correct metal-to-metal contact at the wheel mounting surfaces can cause the wheel nuts to loosen and the wheel to come off while the vehicle is in motion, resulting in loss of control.
Retighten the lug nuts to the specified torque within 100 miles (160 kilometers) after any wheel disturbance (such as rotation, flat tire, wheel removal).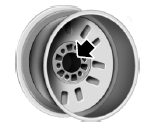 Note: Inspect the wheel pilot hole and mounting surface prior to installation. Remove any visible corrosion or loose particles.
See also:
Data recording
Service Data Recording Service data recorders in your vehicle are capable of collecting and storing diagnostic information about your vehicle. This potentially includes information about the perf ...
Anti-theft alarm
The system will warn you of unauthorized entry to your vehicle. The turn signal lamps will flash and sound the horn up to a total of 10 times when: • any door, the hood or the luggage compartmen ...
Seats
Sitting in the correct position WARNING: Sitting improperly out of position or with the seat back reclined too far can take off weight from the seat cushion and affect the decision of the passeng ...