Introduction
ABOUT THIS MANUAL
Thank you for choosing Ford. We recommend that you take some time to get to know your vehicle by reading this manual. The more that you know about it, the greater the safety and pleasure you will get from driving it.
WARNING: Always drive with due care and attention when using and operating the controls and features on your vehicle.
Note: This manual describes a range of product features and options, sometimes before they are generally available. Therefore, you may find options in this manual that are not found on your vehicle.
Note: Some of the illustrations in this manual may be used for different models, so they may appear different than your vehicle. However, the essential information in the illustrations is always correct.
Note: Always use and operate your vehicle in line with all applicable laws and regulations.
Note: Pass on this manual when selling your vehicle. It is an integral part of the vehicle.
This manual may qualify the location of a component as left-hand side or right-hand side. The side is determined when facing forward in the seat.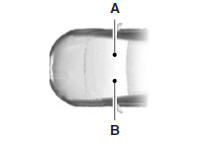 A. Right-hand side
B. Left-hand side
Protecting the Environment

You must play your part in protecting the environment. Correct vehicle usage and the authorized disposal of waste, cleaning and lubrication materials are significant steps toward this aim.
See also:
Recreational towing
Follow these guidelines for your specific powertrain combination to tow your vehicle for personal travel (such as behind a motor home or a truck). Note: Put your climate control system in recircula ...
Auxiliary Power Points
WARNING: Do not plug optional electrical accessories into the cigarette lighter socket (if equipped). Improper use of the lighter can cause damage not covered by your warranty, and can result in f ...
Rain-sensing wipers
Note: Wet road conditions may result in inconsistent or unexpected wiping or smearing. Lower the sensitivity, switch to normal or high-speed wiping or turn the wipers off to reduce smearing. Note ...