Electronic compass (if equipped)
The compass heading is displayed in the center stack display.
The compass reading may be affected when you drive near large buildings, bridges, power lines and powerful broadcast antenna. Magnetic or metallic objects placed in, on or near the vehicle may also affect compass accuracy.
Usually, when something affects the compass readings, the compass will correct itself after a few days of operating your vehicle in normal conditions. If the compass still appears to be inaccurate, a manual calibration may be necessary. Refer to Compass calibration adjustment.
Most geographic areas (zones) have a magnetic north compass point that varies slightly from the northerly direction on maps. This variation is four degrees between adjacent zones and will become noticeable as the vehicle crosses multiple zones. A correct zone setting will eliminate this error. Refer to Compass zone adjustment.
Compass zone adjustment
1. Determine which magnetic zone you are in for your geographic location by referring to the zone map.
2. Turn ignition to the on position.
3. Start the engine.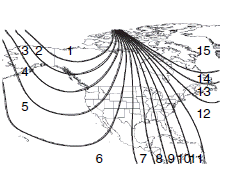 4. Press the SETUP control to select the Update Zone function and display the current ZONE XX in the center stack display.

5. Continue to press the RESET control until the correct zone appears in the center stack display.

6. The direction will display after the RESET control is released. The zone is now updated.

Compass calibration adjustment
Perform compass calibration in an open area free from steel structures and high voltage lines. For optimum calibration, turn off all electrical accessories (heater/air conditioning, wipers, etc.) and make sure all vehicle doors are shut.
1. Start the vehicle.
2. To calibrate, press and hold the RESET control for approximately ten seconds until CAL appears.
Release the control.

3. Slowly drive the vehicle in a circle (less than 3 mph [5 km/h]) until the CAL display changes to the direction value. It may take up to five circles to complete calibration.
4. The compass is now calibrated.

See also:
Seats
Sitting in the correct position WARNING: Sitting improperly out of position or with the seat back reclined too far can take off weight from the seat cushion and affect the decision of the passen ...
Breaking-in your vehicle
Your vehicle does not need an extensive break-in. Try not to drive continuously at the same speed for the first 1,000 miles (1,600 km) of new vehicle operation. Vary your speed frequently in order ...
Four-Wheel Drive (If Equipped)
Four wheel drive The intelligent 4WD system continuously monitors vehicle conditions and automatically adjusts the power distribution between the front and rear wheels. It combines transparent al ...