Driving through water
If driving through deep or standing water is unavoidable, proceed very slowly. Never drive through water that is higher than the bottom of the wheel rims (for cars) or the bottom of the hubs (for trucks).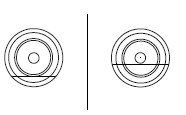 When driving through water, traction or brake capability may be limited.
Also, water may enter your engine's air intake and severely damage your engine or your vehicle may stall. Driving through deep water where the transmission vent tube is submerged may allow water into the transmission and cause internal transmission damage.
Once through the water, always dry the brakes by moving your vehicle slowly while applying light pressure on the brake pedal.
Wet brakes do not stop the vehicle as quickly as dry brakes.
See also:
Audible warnings and indicators
Key In Ignition Warning Chime Sounds when the key is left in the ignition in the off or accessory position and the driver's door is opened. Keyless Warning Alert (If Equipped) Sounds when the k ...
Pairing your phone for the first time
Note: SYNC can support downloading up to approximately 2000 entries per Bluetooth-enabled cellular phone. Note: Make sure the vehicle ignition and radio are turned on and the transmission is in p ...
Cleaning the instrument panel and instrument cluster lens
WARNING: Do not use chemical solvents or strong detergents when cleaning the steering wheel or instrument panel to avoid contamination of the airbag system. Clean the instrument panel and cluster l ...