Scheduled Maintenance
GENERAL MAINTENANCE INFORMATION
Why Maintain Your Vehicle?
Carefully following the maintenance schedule helps protect against major repair expenses resulting from neglect or inadequate maintenance and may also help to increase the value of your vehicle when you sell or trade it. Keep all receipts for completed maintenance with the vehicle.
Regular maintenance intervals for your vehicle have been established based upon rigorous testing. It is important that you have your vehicle serviced at the proper times. These intervals serve two purposes; one is to maintain the reliability of your vehicle and the second is to keep your cost of owning the vehicle down.
It is your responsibility to see that all scheduled maintenance is performed and that the materials used meet the specifications identified in the Capacities and Specifications chapter. Failure to perform scheduled maintenance invalidates warranty coverage on parts affected by the lack of maintenance.
Why Maintain Your Vehicle at Your Dealership?
Factory-Trained Technicians
Service technicians participate in extensive factory-sponsored certification training to help them become experts on the operation of your vehicle. Ask your dealership about the training and certification their technicians have received.
Genuine Ford and Motorcraft® Replacement Parts
Dealerships stock Ford, Motorcraft® and Ford-authorized branded remanufactured replacement parts. These parts meet or exceed Ford Motor Company's specifications. Parts installed at your dealership carry a nationwide, 12 month/12000 mile (20000 kilometer) parts and labor limited warranty. If you do not use Ford authorized parts, they may not meet Ford specifications and, depending on the part, it could affect emissions compliance.
Convenience
Many dealerships have extended evening and Saturday hours to make your service visit more convenient and they offer one stop shopping.
They can perform any services that are required on your vehicle, from general maintenance to collision repairs.
Note: Not all dealers have extended hours or bodyshops. Please contact your dealer for details.
Protecting Your Investment
Maintenance is an investment that will pay dividends in the form of improved reliability, durability and resale value. To maintain the proper performance of your vehicle and its emission control systems, it is imperative that scheduled maintenance be completed at the designated intervals.
Your vehicle is equipped with the Intelligent Oil-Life Monitor® (IOLM) system which displays a message in the information display at the proper oil change service interval; this interval may be up to one year or 10000 miles (16000 kilometers). When ENGINE OIL CHANGE DUE or OIL CHANGE REQUIRED appears in the information display, it is time for an oil change; the oil change must be done within two weeks or 500 miles (800 kilometers) of the ENGINE OIL CHANGE DUE or OIL CHANGE REQUIRED message appearing. The Intelligent Oil-Life Monitor® must be reset after each oil change; see the Information Displays chapter.
If your information display is prematurely reset or becomes inoperative, you should perform the oil change interval at six months or 5000 miles (8000 kilometers) from your last oil change. Never exceed one year or 10000 miles (16000 kilometers) between oil change intervals.
Your vehicle is very sophisticated and built with multiple, complex, performance systems. Every manufacturer develops these systems using different specifications and performance features. That is why it is important to rely upon your dealership to properly diagnose and repair your vehicle.
Ford Motor Company has recommended maintenance intervals for various parts and component systems based upon engineering testing.
Ford Motor Company relies upon this testing to determine the most appropriate mileage for replacement of oils and fluids to protect your vehicle at the lowest overall cost to you and recommends against maintenance schedules that deviate from the scheduled maintenance information.
Ford strongly recommends the use of only genuine Ford, Motorcraft® or Ford-authorized remanufactured replacement parts because they are engineered for your vehicle.
Additives and Chemicals
Ford Motor Company recommended additives and chemicals are listed in the owner manual and in the Ford Workshop Manual. Additional chemicals or additives not approved by Ford Motor Company are not recommended as part of normal maintenance. Please consult your warranty information.
Oils, Fluids and Flushing
In many cases, fluid discoloration is a normal operating characteristic and, by itself, does not necessarily indicate a concern or that the fluid needs to be changed. However, discolored fluids that also show signs of overheating and foreign material contamination should be inspected immediately by a qualified expert, such as the factory-trained technicians at your dealership. Your vehicle's oils and fluids should be changed at the specified intervals or in conjunction with a repair. Flushing is a viable way to change fluid for many vehicle sub-systems during scheduled maintenance. It is critical that systems are flushed only with new fluid that is the same as that required to fill and operate the system, or using a Ford-approved flushing chemical.
Owner Checks and Services
Certain basic maintenance checks and inspections should be performed every month or at six month intervals.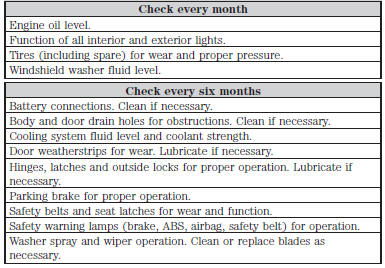 Multi-point Inspection
In order to keep your vehicle running right, it is important to have the systems on your vehicle checked regularly. This can help identify potential issues and prevent major problems. Ford Motor Company recommends the following multi-point inspection be performed at every scheduled maintenance interval to help make sure your vehicle keeps running great.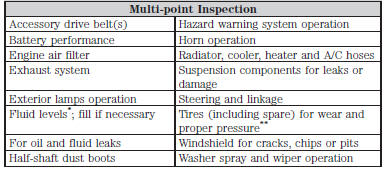 *Brake, coolant recovery reservoir, automatic transmission (with an underhood dipstick) and window washer.
**If your vehicle is equipped with a temporary mobility kit, check the tire sealant expiration Use By date on the canister. Replace as needed.
Be sure to ask your dealership service advisor or technician about the multi-point vehicle inspection. It is a comprehensive way to perform a thorough inspection of your vehicle. It is your checklist that gives you immediate feedback on the overall condition of your vehicle. You will know what has been checked, what is okay, as well as those things that may require future or immediate attention. The multi-point vehicle inspection is one more way to keep your vehicle running great!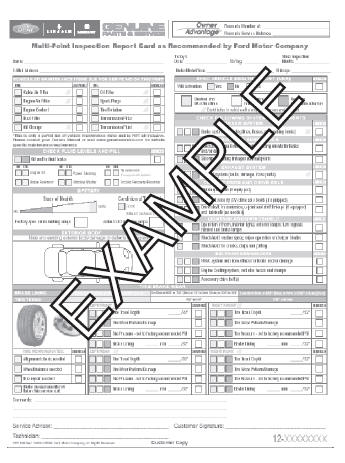 See also:
Center console
Your vehicle is equipped with a variety of console features. These include: 1. Cupholders 2. Utility compartment console lid has a CD holder, a business card holder and two pen holders. The utilit ...
Installing child safety seats
Using Lap and Shoulder Belts WARNING: Airbags can kill or injure a child in a child seat. NEVER place a rear-facing child seat in front of an active airbag. If you must use a forward-facing child s ...
Am/fm/cd premium audio system
WARNING: Driving while distracted can result in loss of vehicle control, accident and injury. Ford strongly recommends that you use extreme caution when using any device or feature that may take you ...