Infotainment display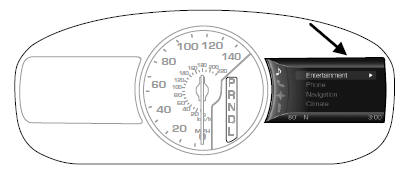 The display is located on the right side of your instrument cluster. You can use your steering wheel controls to view and make minor adjustments to active modes without taking your hands off the wheel.
For example:
• In Entertainment mode, you can view what is now playing, change the audio source, select memory presets and make some adjustments.
• In Phone mode, you can accept or reject an incoming call.
• If your vehicle is equipped with Navigation, you can view the current route or activate a route.
• In Climate mode, the driver side temperature can be set as well as fan speed.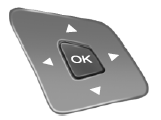 Use the OK and arrow buttons on the right side of your steering wheel to scroll through the available modes:
Entertainment

Phone

Navigation

Climate

You can make selections from the menu by using the OK button. The selection menu expands and different options appear.
• Press the up and down arrows to scroll through the modes.
• Press the right arrow to enter the mode.
• Press the left or right arrows to make adjustments within the chosen mode.
• Press OK to confirm your selection.
Note: If your vehicle is not equipped with Navigation, Compass appears in the display instead of Navigation. If you press the right arrow to go into the Compass menu, you can see the compass graphic. The compass displays the direction in which the vehicle is traveling, not true direction (i.e., if the vehicle is traveling west, the middle of the compass graphic displays west; north displays to the left of west though its true direction is to the right of west).
See also:
California proposition 65
WARNING: Some constituents of engine exhaust, certain vehicle components, certain fluids contained in vehicles and certain products of component wear contain or emit chemicals known to the State o ...
Introduction
ABOUT THIS MANUAL Thank you for choosing Ford. We recommend that you take some time to get to know your vehicle by reading this manual. The more that you know about it, the greater the safety and ...
Using cruise control
WARNING: Do not use cruise control in heavy traffic or on roads that are winding, slippery or unpaved. Note: Vehicle speed may vary momentarily when driving up or down a steep hill. Apply the bra ...