Multi-function lever
Windshield wiper: Rotate the end of the control away from you to increase the speed of the wipers; rotate towards you to decrease the speed of the wipers.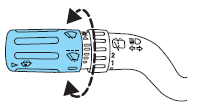 Windshield washer: Press the end of the stalk:
• briefly: causes a single swipe of the wipers without washer fluid.
• a quick press and hold: the wipers will swipe three times with washer fluid.
• a long press and hold: the wipers and washer fluid will be activated for up to ten seconds.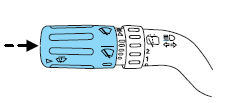 Courtesy wipe feature: One extra wipe will occur a few seconds after washing the front window to clear any excess washer fluid remaining on the windshield.
Note: Do not operate the washer when the washer reservoir is empty.
This may cause the washer pump to overheat. Check the washer fluid level frequently. Do not operate the wipers when the windshield is dry.
This may scratch the glass, damage the wiper blades and cause the wiper motor to burn out. Before operating the wiper on a dry windshield, always use the windshield washer. In freezing weather, be sure the wiper blades are not frozen to the windshield before operating the wipers.
Windshield wiper rainlamp feature (if equipped with autolamp)
When the windshield wipers are turned on during daylight, and the headlamp control is in the autolamp position, the exterior lamps will turn on after a brief delay and will remain on until the wipers are turned off.
Rear window wiper/washer controls
For rear wiper operation, rotate the rear window wiper and washer control to the desired position.
Select:
2 — Normal speed operation of rear wiper.
1 — Intermittent operation of rear wiper.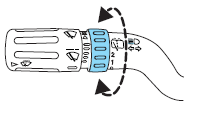 O (off) — Rear wiper and washer off.
For rear wash cycle, rotate (and hold as desired) the rear wiper/washer control to either

position.
From either position, the control will automatically return to the 2 or O (off) position.
See also:
Vehicle Care
GENERAL INFORMATION Your Ford or Lincoln authorized dealer has many quality products available to clean your vehicle and protect its finishes. ...
Engine coolant change record
Engine Coolant Change Log ...
Driving through water
WARNING: Drive through water in an emergency only, and not as part of normal driving. WARNING: Engine damage can occur if water enters the air filter. Note: Driving through deep water may allow wa ...