Wheels and Tires
GENERAL INFORMATION
Important Information for P265/40R22 Low-profile Tires and Wheels
Note: Your vehicle's warranty does not cover these types of damage.
Tires should always be kept at the correct inflation pressures and extra caution should be taken when operating on rough roads to avoid impacts that could cause wheel and tire damage.
If your vehicle is equipped with P265/40R22 tires, they are low-profile tires. These tires and wheels are designed to give your vehicle a sport appearance. With low-profile tires, you may notice an increase in road noise and faster tire wear, depending on road conditions and driving styles. Due to their design, low-profile tires and wheels are more prone to road damage from potholes, rough or unpaved roads, car wash rails and curb contact than standard tires and wheels.
Notice to Crossover Vehicle Owners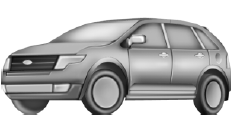 Crossover vehicles handle differently than passenger cars in the various driving conditions that are encountered on streets, highways and off-road. Crossover vehicles are not designed for cornering at speeds as high as passenger cars any more than low-slung sports cars are designed to perform satisfactorily under off-road conditions.
WARNING: Crossover vehicles have a significantly higher rollover rate than other types of vehicles. To reduce the risk of serious injury or death from a rollover or other crash you must:
• Avoid sharp turns and abrupt maneuvers;
• Drive at safe speeds for the conditions;
• Keep tires properly inflated;
• Never overload or improperly load your vehicle; and
• Make sure every passenger is properly restrained.
WARNING: In a rollover crash, an unbelted person is significantly more likely to die than a person wearing a seat belt.
All occupants must wear seat belts. Children and infants must use appropriate restraints to minimize the risk of injury or ejection.
Study your owner's manual for specific information about equipment features, instructions for safe driving and additional precautions to reduce the risk of an accident or serious injury.
All-Wheel Drive System (If Equipped)
WARNING: Do not become overconfident in the ability of all-wheel drive vehicles. Although an all-wheel drive vehicle may accelerate better than a two-wheel drive vehicle in low-traction situations, it will not stop any faster than two-wheel drive vehicles.
Always drive at a safe speed.
Note: Your all-wheel drive vehicle is not intended for off-road use. This feature gives your vehicle some limited off-road capabilities in which driving surfaces are relatively level, obstruction-free and otherwise similar to normal on-road driving conditions. Operating your vehicle under other than those conditions could subject the vehicle to excessive stress which might result in damage which is not covered under your warranty.
With the all-wheel drive option, power will be delivered to the front wheels and distributed to the rear wheels as needed. This increases traction which may enable you to safely drive over terrain and road conditions that a conventional two-wheel drive vehicle cannot. The system is active all the time and requires no input from the operator.
For all-wheel drive vehicles, a spare tire of a different size other than the tire provided should never be used. A dissimilar spare tire size (other than the spare tire provided) or major dissimilar tire sized between the front and rear axles could cause the system to stop functioning and default to front-wheel drive.
How Your Vehicle Differs from Other Vehicles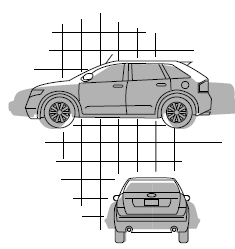 Crossover vehicles can differ from some other vehicles in a few noticeable ways. Your vehicle may be:
• Higher – to allow higher load carrying capacity.
• Shorter – to give it the capability to approach inclines. All other things held equal, a shorter wheelbase may make your vehicle quicker to respond to steering inputs than a vehicle with a longer wheelbase.
• Narrower – to provide greater maneuverability in tight spaces.
As a result of the above dimensional differences, crossover vehicles often will have a higher center of gravity and a greater difference in center of gravity between the loaded and unloaded condition.
These differences that make your vehicle so versatile also make it handle differently than an ordinary passenger car.
See also:
Crash sensors and airbag indicator
WARNING: Modifying or adding equipment to the front end of your vehicle (including frame, bumper, front end body structure and tow hooks) may affect the performance of the airbag system, increasin ...
Changing a bulb
Lamp Assembly Condensation Exterior lamps are vented to accommodate normal changes in pressure. Condensation can be a natural by-product of this design. When moist air enters the lamp assembly thr ...
Tire care
Important Tire Information for P265/45ZR20 Sport Tires and Wheels Your Sport vehicle is equipped with unique wheels and tires designed to enhance performance. To continue providing this performance ...