Trip computer
Resetting the trip computer
Press and hold OK on the current screen to reset the respective trip, distance, time and fuel information.
Trip Odometer
Registers the distance of individual journeys.
Distance to E
Indicates the approximate distance the vehicle will travel on the fuel remaining in the tank. Changes in driving pattern may cause the value to vary.
Inst. Fuel Econ
Shows instantaneous fuel usage.
Average fuel
Indicates the average fuel consumption since the function was last reset.
Fuel Used
Shows the amount of fuel used for a given trip.
Total Odometer
Registers the total mileage of the vehicle.
Compass (non MyFord/MyLincoln Touch units only)
Displays the vehicle's heading direction.
To calibrate the compass: Enter the compass menu and select Calibrate.
Follow the prompts.
To set the compass zone: Enter the compass menu and select Set. Follow the prompts. See the diagram below to determine your magnetic zone.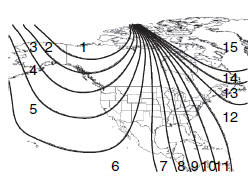 Determine which magnetic zone you are in for your geographic location by referring to the zone map.
See also:
Cleaning the alloy wheels
Note: Do not use chrome cleaner, metal cleaner or polish on wheels and wheel covers. Aluminum wheels and wheel covers are coated with a clearcoat paint finish. In order to maintain their shine: ...
Fuel and Refueling
SAFETY PRECAUTIONS WARNING: Do not overfill the fuel tank. The pressure in an overfilled tank may cause leakage and lead to fuel spray and fire. WARNING: The fuel system may be under pressure. If ...
Instrument Cluster
Gauges Type 1 Cluster shown in standard measure – metric clusters similar. A. Tachometer B. Information display. See Information displays for more information. C. Speedometer D. Fuel gauge ...