Introduction
ABOUT THIS MANUAL
Thank you for choosing Ford. We recommend that you take some time to get to know your vehicle by reading this manual. The more that you know about it, the greater the safety and pleasure you will get from driving it.
WARNING: Always drive with due care and attention when using and operating the controls and features on your vehicle.
Note: This manual describes a range of product features and options, sometimes before they are generally available. Therefore, you may find options in this manual that are not found on your vehicle.
Note: Some of the illustrations in this manual may be used for different models, so they may appear different than your vehicle. However, the essential information in the illustrations is always correct.
Note: Always use and operate your vehicle in line with all applicable laws and regulations.
Note: Pass on this manual when selling your vehicle. It is an integral part of the vehicle.
This manual may qualify the location of a component as left-hand side or right-hand side. The side is determined when facing forward in the seat.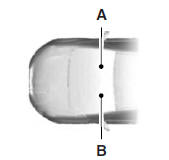 A. Right-hand side
B. Left-hand side
Protecting the Environment

You must play your part in protecting the environment. Correct vehicle usage and the authorized disposal of waste, cleaning and lubrication materials are significant steps toward this aim.
See also:
Driving through water
WARNING: Drive through water in an emergency only, and not as part of normal driving. WARNING: Engine damage can occur if water enters the air filter. Note: Driving through deep water may allow wa ...
Rear seats
WARNING: To prevent possible damage to the seat or safety belts, make sure that the safety belts are not buckled when folding the seat back. • Recline seat back: With the seat occupied, pull th ...
Economical driving
Fuel economy is affected by several things, such as how you drive, the conditions you drive under and how you maintain your vehicle. There are some things to keep in mind that may improve your fuel ...