Driving through water
If driving through deep or standing water is unavoidable, proceed very slowly. Never drive through water that is higher than the bottom of the wheel rims (for cars) or the bottom of the hubs (for trucks).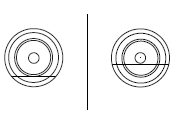 When driving through water, traction or brake capability may be limited.
Also, water may enter your engine's air intake and severely damage your engine or your vehicle may stall. Driving through deep water where the transmission vent tube is submerged may allow water into the transmission and cause internal transmission damage.
Once through the water, always dry the brakes by moving your vehicle slowly while applying light pressure on the brake pedal.
Wet brakes do not stop the vehicle as quickly as dry brakes.
See also:
Vehicle certification label
The National Highway Traffic Safety Administration Regulations require that a Safety Compliance Certification Label be affixed to a vehicle and prescribe where the Safety Compliance Certificatio ...
Brake fluid check
Fluid levels between the MIN and MAX lines are within the normal operating range; there is no need to add fluid. If the fluid levels are outside of the normal operating range, the performance of t ...
Changing the wiper blades
1. Pull the wiper blade and arm away from the glass. 2. Squeeze the locking tabs to release the blade from the arm and pull the blade away from the arm to remove it. 3. Attach the new blade to t ...