Fuses
Changing a fuse
WARNING: Always replace a fuse with one that has the specified amperage rating. Using a fuse with a higher amperage rating can cause severe wire damage and could start a fire.

If electrical components in the vehicle are not working, a fuse may have blown. Blown fuses are identified by a broken wire within the fuse. Check the appropriate fuses before replacing any electrical components.
Standard Fuse Amperage Rating and Color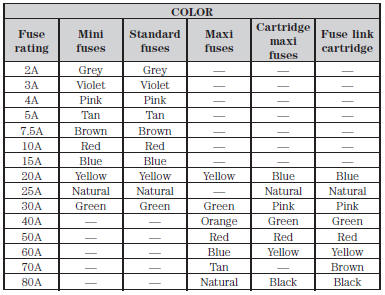 See also:
Windows and Mirrors
Power windows WARNING: Do not leave children unattended in your vehicle and do not let children play with the power windows. They may seriously injure themselves. WARNING: When closing the power w ...
Windshield washers
Note: Do not operate the wipers on a dry windshield. This may scratch the glass, damage the wiper blades or cause the wiper motor to burn out. Always use the windshield washer before wiping a dry w ...
Recreational towing
Note: Do not exceed the trailer weight for your vehicle configuration listed in the chart below. Note: Make sure to take into consideration trailer frontal area. Do not exceed: • 20 feet2 (1.8 ...