Wipers and Washers
Windshield wipers
Note: Fully defrost the windshield in icy conditions before turning on the windshield wipers.
Note: Make sure the windshield wipers are switched off before entering a car wash.
Note: Clean the windshield and wiper blades if they begin to leave streaks or smears. If that does not resolve the issue, install new wiper blades.
Note: Do not operate the wipers on a dry windshield. This may scratch the glass, damage the wiper blades or cause the wiper motor to burn out.
Always use the windshield washers before wiping a dry windshield.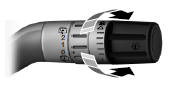 Rotate the end of the control away from you to increase the speed of the wipers. Rotate toward you to decrease the speed of the wipers.
Press the stalk down and release for a single swipe of the wipers.
Speed-dependent Wipers (If Equipped)
When your vehicle speed increases, the interval between wipes will decrease when intermittent wipe is selected.
See also:
Vehicle loading – with and without a trailer
This section will guide you in the proper loading of your vehicle and/or trailer, to keep your loaded vehicle weight within its design rating capability, with or without a trailer. Properly loadin ...
Tire care
Information About Uniform Tire Quality Grading Tire Quality Grades apply to new pneumatic passenger car tires. The Tire Quality Grades can be found where applicable on the tire sidewall between t ...
Rain-sensing wipers
Note: Wet road conditions may result in inconsistent or unexpected wiping or smearing. Lower the sensitivity, switch to normal or high-speed wiping or turn the wipers off to reduce smearing. Note ...