Fuel pump shut-off switch
This device stops the electric fuel pump from sending fuel to the engine when your vehicle has had a substantial jolt.
After an accident, if the engine cranks but does not start, this switch may have been activated.
This switch is located in the front passenger's footwell, behind a flip-up cover, by the kick panel access cover.
To reset the switch:
1. Turn the ignition to the off position.
2. Check the fuel system for leaks.
3. If no leaks are apparent, reset the switch by pushing in on the reset button.
4. Turn the ignition to the on position.
5. Wait a few seconds and return the key to the off position.
6. Make another check for leaks.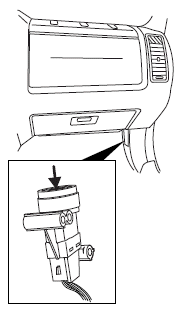 See also:
Driving through water
If driving through deep or standing water is unavoidable, proceed very slowly. Never drive through water that is higher than the bottom of the wheel rims (for cars) or the bottom of the hubs (for ...
Exceptions
There are several exceptions to the Normal Schedule. They are listed below: Normal vehicle axle maintenance: Rear axles and power take-off (PTO) units with synthetic fluid and light-duty trucks equ ...
Warning lamps and indicators
These lights can alert you to a vehicle condition that may become serious enough to cause expensive repairs. Many lights will illuminate when you start your vehicle to make sure they work. If any ...